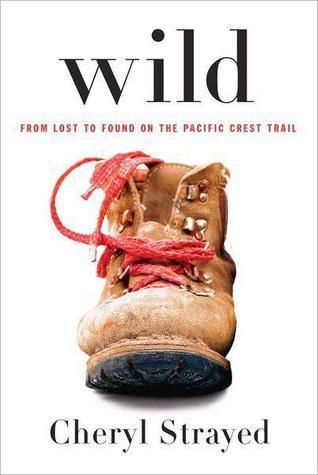 Title: Wild
Author: Cheryl Strayed
Genre:
Memoir
Publication:
2012
Rating:
5 / 5 stars
The Cover
There is also a movie edition cover featuring Reese Witherspoon who played Cheryl in the movie version and while she did a great job and the cover is pretty, I'm always more a fan of the original covers of books. The Cover of Wild is a simple one but I really like it. It features a hiking boot and not much fancy text on a white background. I feel like the simpleness of it speaks volumes, and considering the fact that good boots are needed for a hike and that Cheryl's boots basically are a minor character in the book, it's a really good choice. I also like that they kept the fonts rather simple, only using black and the red from the shoe laces, everything puts the boot up and front.
The Story
Cheryl Strayed feels like she has lost everything when she's only in her early twenties, her mother died, her marriage is soon to be over and her family has fallen apart as well. She lives her life rather lost for four years until she makes a big decision, she will hike the Pacific Crest Trail starting at the Mojave Desert all the way up to Washington State, a hike that is more than thousand miles long and she will do it all by herself. To make her decision even more daunting she decides this while not having any experience or training except for having read a guide book about the trail. She's hoping to reinvent and find herself during this difficult and lonely experience.
My Thoughts
I had seen
Wild
around before but it never really appealed to me I guess and I only decided to read it because Reese Witherspoon was nominated for an Oscar. I like to watch all the movies that get nominations and considering that I like to have read the book before the movie and that this is a bestseller I decided to give it a go. I'm really glad I did! Because from a book that I never seemed all too appealing to me and a book I went into not really thinking I would like it, I went to loving it. I love when books do that to me and it goes to show that we should sometimes branch out and read stuff we wouldn't normally read, especially when a book gets the great reviews
Wild
has been getting.
After a bit of a slow start, the first part of the book describes Cheryl's childhood and her mother's illness and dying process in great detail and while it's important to have this background and her mother's death was one of the biggest catalysts in making her decision, I felt like it drags on a little bit. It is well-written and very touching and emotional but I guess I was waiting for the real story to begin. Once it did, I couldn't put the book away, I read whenever I could and I even read on my phone when I took the dog for a walk. It's the kind of book that draws you in and keeps you longing for more. Part of it is Strayed writing style which is really great and easy to get into, she has a way of keeping you on the edge of your seat and works in humor so be prepared to have some laughs here and there.
Her journey is a remarkable one and you feel like you're right there with her on the trail, experiencing her emotions, feelings and fears. I really liked all the people she met on her journey, everybody brought something special to the story and her journey. There are some that make a reappearance now and then and some she and we as readers never encounter again but I guess that is part of a journey like that, and part of life really. The story goes back and forth between Cheryl's hike and her previous life which she thinks about during her hike and it basically reads like a novel. It's not so much a book about the Pacific Crest Trail but more the story of one woman's experiences during her life and while hiking the trail coming to terms with the first 26 years of her life.