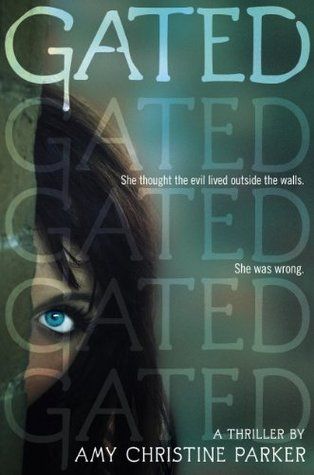 Title:
Gated
(Gated #1)
Author:
Amy Christine Parker
Genre:
YA Contemporary Thriller
Publication:
2013
Rating:
4 / 5 stars
The Cover
I can't say I'm completely smitten with the cover. I like the colors, the font and the way the title is printed several times, it makes it feel claustrophobic which fits the novel but I don't really like the image of the girl. She looks kind of wild or feral and it made me expect a completely different novel. Judging from the cover I thought it would be a dystopian novel and I actually had it shelved like that on Goodreads for a long time until I realized it isn't when I decided to read it.
The Story
Lyla lives in the Community with her family and because they went to live there when she was very young, she doesn't really know any different life. The Community is a group of chosen people, chosen by Pioneer, that are living a simple life in a gated community where they are basically preparing for armageddon. Pioneer is their leader and prophet who knows when the world ends and who knows this group of people are the chosen ones to survive the end.
However, is everything as it seems? Is Pioneer really who he says he is? An encounter with a boy from outside of the community makes Lyla start to doubt everything starting with her feelings for this boy called Cody, while she is actually promised to her childhood friend Will. Doubt is not something Pioneer allows in the Community though and the question remains if Lyla will follow him or if she will give into her feelings of doubt.
My Thoughts
As I said above, for a long time I thought this was a dystopian novel until I decided to make it my last book for the 2013 Debut Author Challenge and I discovered it's actually a contemporary thriller. It wasn't really high on my to-read list but I'm glad I gave it a go. It was an interesting read. I have never read anything relating to cults but it is fascinating topic, and I think it's good a young adult writer tackled this issue because especially for teens, I can see how easy it might be to get involved in such a thing with the right person trying to convince them to join.
The story starts a bit slow but I think that is a good thing because you get a good idea of life in the Community and people really do seem to be happy there, even though life is also hard for them because as nice as Pioneer can be, he's also very strict and punishments can be hard. Once the story really gets going though, it's an exciting ride that keeps you hooked. I basically read the second half in one afternoon because I was finally completely into the story. At first I didn't really like the main character, Lyla, a whole lot. She just seemed so generic and whatever would be coming for her, you just don't see her being the kind of character she ends up being. In the end though, I came around and I started to like her and I think she's actually quite a good choice as the main character for this story. It was an interesting look into a community like this and the way people fall in love with a leader like Pioneer. I would have liked to learn more about him though, what makes him tick and how did he get to be this way but I guess with Lyla as the main character, this wasn't the place for it.
I only found out that there'll be a second book after I had finished reading, and while I did have some thoughts about wanting to know how things would turn out for Lyla and the others, I felt satisfied with the ending. The sequel kind of seems a bit unnecessary but I'll definitely be reading! It will be interesting to see how Lyla's life continues but it could also have been done in an epilogue. If you are interested in cults and reading a story about life in one, I definitely recommend this one but even if you would usually not seek out stories like these, you'll most likely enjoy this book.