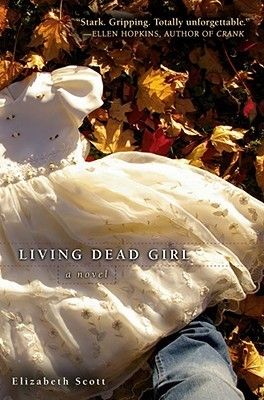 Title:
Living Dead Girl
Author:
Elizabeth Scott
Genre:
YA Contemporary
Publication:
2008
Rating:
4 / 5 stars
The Cover
I can't really say it's a beautiful cover or a nice cover because the image will already tell you that this is a sad and haunting story. The little dress, with the person standing before it, the leaves...it doesn't forebode any good things. It really fits the book and the story though.
The Story
Alice has been taken from her family by Ray when she was only ten years old. Since then she's basically given up on life, he made sure that she could endure any pain and gave up on any power or hope.
The story takes place when Alice if fifteen and more and more she thinks about the end, she has given up on life completely and the only thing she wants is for it all to stop, for her to die. And she'll do anything for that.
My Thoughts
I came to this book after reading
If You Find Me
, which I reviewed last week, I think I found it as a recommendation somewhere as they both deal with the abuse and abduction of children. As
Living Dead Girl
only has 176 pages, I figured it would be a quick read and interesting to see how the topic was dealt with in comparison to
If You Find Me
. It is indeed a quick read but not an easy one, the topic it deals with is very heavy, and dealt with in a much more different and graphic way than last week's novel. I wouldn't even say this is a young adult novel, even though it is classified as such. It's a haunting and claustrophobic story that will not let you go for a while.
Alice's story is told in a non-linear way which makes it an interesting read, it is set when Alice is fifteen years old but through flashbacks we learn what happened to her when Ray took her and what has happened in the five years she's been with him. Through the flashbacks we also learn more about Ray and why he is the way he is, which if obviously no excuse! But it's interesting to have somewhat of a back story for him.
It's hard to talk a lot about this novel without giving away too much but if the heavy matter it deals with is not something that scares you off, I'd say give it a go. The way this story is told is unlike other books, for example often a chapter only exists of one sentence. It's interesting to get to know Alice through the flashbacks and to see how she slowly became the way she is now, without any hope left inside of her. It has a powerful and surprising ending to it and even though the prose is beautiful, this book is so disturbing, it will haunt you for a while so be prepared for that.