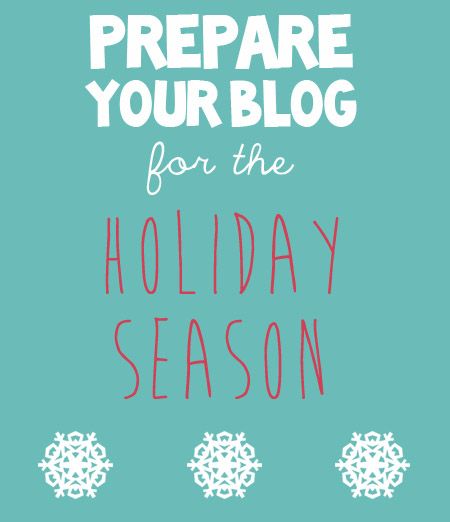 If you've been a blogger for a while now, you already know how special Christmas time is for all of us: it's that time of the year in which we can blog about things we usually don't blog about, in which our blog turns festive and we can even do things that get out of our comfort zone as bloggers. That's why it's important to get ready for it: December is closer than what you think (remember how fast October went by?), and it's important to have things planned ahead.
This little guide is going to help you with the process.
6 STEPS TO PREPARE YOUR BLOG FOR THE HOLIDAY SEASON
1. Decide if your blog will celebrate the holiday season.
Maybe you love Christmas and you really want your blog to reflect it. Maybe you have a lot of things you'd like to post about during the holidays, or you'll have a lot of free time to blog during those days. Or maybe, even if you won't have time to blog, you still want your blog to stay active during Christmas time so you want to have your content planned ahead. Or maybe not. Maybe you'll take some days off blogging on December, and you'll want to focus on your family and on other things not blogging related. That's fine too. In case you belong to the last group feel free to ignore this blog post, but if you're planning on keeping your blog active during December, then you should totally keep reading this. It will save you a lot of time later, specially because time is what you'll need more around Christmas.
2. Design your seasonal layout NOW.
Most of us love to decorate our home on Christmas: we like to put up a tree, and to decorate the house with all kind of ornaments to make it look festive. Our blog shouldn't be an exception. You don't have to do anything very special, sometimes putting up a simple digital garland under your usual banner will work wonders. We can also change the background for a more festive one, or just change the layout colors to adapt them to Christmas. Whatever you decide to do, work on it now. Think about the day in which you will want to put up your holiday layout (for example on December 1st), and make sure that you have it all ready way before that day arrives. Consider that you won't only have your layout to change, and the sooner you have it ready, the less you'll have to worry about it. You can work a little bit on it every day during a week, and in seven days you'll have a seasonal layout for your blog ready for when it needs to be used.
3. Write as many holiday blog post ideas as you can come up with:
guest posts, DIY projects, photos, lists, giveaways, recommendations, recipes, memories from your childhood, wishlists... anything you want to post about will be valid! Don't think about how you'll do it yet, just brainstorm those ideas on a piece of paper, without any kind of order. For now we're just trying to find ideas.
4. Assign each post to a day. Once you have enough ideas, you'll need to assign a day to each one of them. Some of them will be obvious (for example, on December 23th or 24th you might want to wish all your readers a Merry Christmas), but others will give you more freedom (for example a holiday movie recommendation can fit on any day in December).
5. Start contacting people NOW. Some blog posts might involve the collaboration of other bloggers or sponsors (for example giveaways or guest posts). If you've planned to post some of those in your blog, you might want to start contacting people right now. Even if you think it's still early, or that you'll do it "next week", think twice: these upcoming weeks are going to be really busy for everybody, not just for you. You have to give time to others to work on what you're asking them to do, nobody likes to be rushed.
6. Remember to keep it fun. If you decided to commit to blogging during the holiday season, then you should keep in mind that it's something you have to enjoy, and not a task you're forced to do. That's what planning is for: you don't need to plan a post for every day, or a lot of content, what is really important is that you post about what you really want to post, without it turning into a tedious task. Work on your content, take photos, plan things ahead, but at the end remember that this is just a blog, and that what really matters is that you enjoy what you're doing.