Title:
Nobody But Us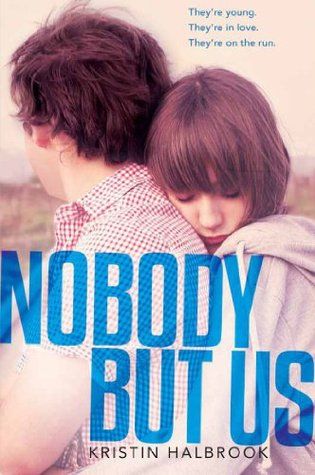 Author:
Kristin Halbrook
Genre: Contemporary YA
Publication: 2013
Rating: 3 / 5 stars
The Cover
Nothing special really, just a boy and a girl holding each other. It seems quite bland and unoriginal like so many covers out there. I do like the coloring of the picture and the font and color but that's about it. It's not really a cover that screams: Read me! Besides that, the cover might be a bit confusing for people because this is definitely not a happy book.
The Story
Two teenagers, Will and Zoe, who are in love run away to get her out of her father's abusive hands. Will has been in foster homes all his lives and has never had anything positive until he met Zoe.
They both haven't had easy lives and as much as they want to get away from all that, save each other and build new lives for themselves, things don't go smoothly, as expected.
My Thoughts
I didn't enjoy this very much but I ended up giving it three stars in the end because of the intensity of the story and the ending, which was definitely something I didn't see coming. What I didn't like about the book was the characters, they were both not really loveable and the whole time while reading you wonder how they can be this stupid to think that their plan might work, especially considering that their relationship is still quite new.
Also, at points Will has mood swings which obviously doesn't make him a better person and you fear for Zoe and if she hasn't really gone from one bad person to another.
Another thing that made me not rate this lower was that they're both tragic teenagers with sad stories that unfortunately are a reality and I admire the author for tackling this kind of thing and their stories, not everything has to be perfect all the time. The writing fits the story I guess, it wasn't really my cup of tea but the voices of both characters were very well done. The style itself, though, to me seemed a bit too simple. Something I did like was the fact that the whole story was basically their trip, it might not be something everybody enjoys but I liked following them on the road and getting to know the characters through their thoughts.
As I mentioned above, this is not a happy book, the characters are dark and the story is not a fun road trip and I can see how it might also touch on some issues people might have a hard time dealing with.
This is a book you either really like or don't I guess, it wasn't really my kind of thing. Not because of the issues but I it just didn't click with me, the writing didn't and the characters didn't either. I do realize my rating is higher than you'd expect from this review but I really admire the author for tackling these issues and going where she went with the ending.