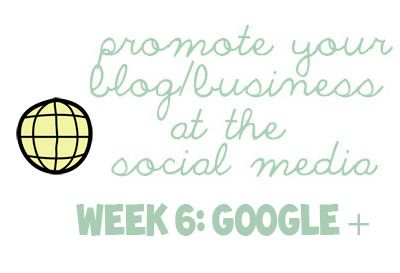 We've arrived at the last entry of the series to promote your blog and little business at the social media, how did that happens? I'm very excited for this week's edition, because it's dedicated to one of my new favorite social media sites: Google +, which is slowly becoming of the most used social media platforms around. But before starting with the tutorial on itself, let's do a little reference to one of the most asked questions about Google +: Is Google + better or worse than Facebook? Which is best?
Is no secret that Google + is the spoiled baby of Google, and this is obvious when you consider how much they try to sneak it into their services, to the point that they want Google + to become the center of the huge Google Empire. Facebook is still the most used one (
according to this website
), but Google Plus is slowly increasing its limits and gaining popularity. In general terms (within digging into the technical details), the main difference between Google + and Facebook is the fact that Facebook is more used for personal relationships between friends and family, while Google + is more used to find people who match our common interests. And,
if you're a blogger or a business owner, this should already give you a hint on why having a Google + can be a great idea.
But having a Google + account and actually using it are two different things. There's a lot of people with a Google + account who are totally inactive on that social platform. Today I want to try to persuade you on why having a Google + account for your blog or little shop it better that having a Facebook one (in here let me make one thing clear: sadly, I don't work for Google +, so this is my opinion and is not influenced by anything else than my personal experience on both social platforms).
Let's start!

Profiles in Google + are the favorite of Google searches. Considering that Google is the most used searcher, seems obvious that it will give preference to profiles on Google + than to profiles on Facebook. This tiny detail that might seem obvious, will open you the door to a whole new universe that maybe you never considered before. If you're not in Google +, you don't exist on the Internet (okay, this sounded radical, but it might be true sooner than you think). Let's rephrase it: if you're not on Google + you won't be spoiled by any of the little tiny maniac robots that work for Google +. Why? Because you're not using their product.


Google + is about linking, contacting, interacting, relating and connecting. It can seem confusing at the beginning, and it might you feel exposed, but at the same time everything in Google + is personalized, which means that you can control who can see what, and what you keep private (we'll talk about that later, but if you try to promote keeping private is NOT the way to go). Just remember to check your settings and all the privacy options (we'll develop that later). But then again, if you're considering keeping your profile private, don't get a Google + account, because that's not the point of it (after all, you're here for promotion, aren't you?)


Circles are EVERYTHING in Google +, so the person who knows how to use the circles will conquer the world. Okay, maybe not THAT important, but you'll have to believe me when I say that the value of circles in Google + is unlimited. Controlling circles means controlling groups of people, decide what do you share with each one of them, and keep different conversations at the same time with different people without having to share every single post with everybody in your Google Plus account. Facebook does that to a certain point too, yes, but Google + is ages further than the primitive filter system that Facebook is using.


Sharing photos on Google + is an amazing experience. They offer something called Auto Enhance which makes photos look better, and they give the possibility of showing photos combined into animations. The visual look of a Google + page full of photos is a really pretty experience that you shouldn't miss.


Communities are shinny gold mines. Do you remember back then when Yahoo had a popular feature (it still has it, but is not popular anymore) called Yahoo Groups? It was amazing because it allowed us to find people that shared our same interests and it offered a place where to interact. Google + has the same, and is called Communities. Communities are easy to find, it's as simple as doing a search at the Community page and a bunch of results will show up. Are you trying to connect with people who like Crafting? Just search for it. Are you a fan of traveling? There's a bunch of Google + users who love it too. Now, imagine the marketing possibilities of this when you try to promote your blog/shop. Amazing, right? And so easy to use! And let's not forget about the Hangout option, in which you can videochat with others within the same Google + interface.


You should never forget that Google + uses a Real-Time Stream. It doesn't sound like a big deal, but it is: the fact that posts show up in the stream in the same order than they're posted is a huge time saver (have you ever found yourself reading a Facebook post thinking that was just posted, and then discovered that was posted two days ago? It happens). Here is when it's important to post at the right time, to catch as much audience as possible, because unlike Facebook, your post will show up at your followers timeline just when it was posted, and will keep going down on their wall when other Google + users post new things (we'll also talk about this later).

The more information you have in your profile, the more remarkable you're to Google. If you already have a Google + account that you're not really using and you want to start being active on it, start by filling your profile (Account-Edit your profile). Add as much information as you can, and don't forget the photo. Something extremely important to keep in consideration is that Google + gives more importance to privacy than Facebook, which means that is possible that your Google + profile is set as private by default. This can be a plus for personal users, but if you're trying to promote your blog or business then you'll have to make sure that your Google + profile can be found and read by every single person in the Internet, turning the private sets into public. To make sure your profile is visible on public search go to Account - Profile and Privacy - Public profile information. In there change all the information that needs to be changed to set your profile as public.


When you fill in the introduction of your profile, don't forget to add keywords that define your site and what you do, because those words that are used in the description (the ones we usually think are kind of pointless) are the ones that the precious robots of Google are going to use to indexate you. Scary? Not really. It's an opportunity rather than a problem. BUT (and here is where the trick is) as much as using keywords is a great way to get a good spot on Google searches, overusing keywords can be pointed out as a fault by Google, who is not going to forgive you for wanting to climb up positions by spamming keywords. Why is that? Because right now Google is using something called Semantic Search, a complex system that explained in a nutshell, means that Google "reads" all your pages and will rank them according to how relevant they are for your readers. For example, imagine that you're selling jewelry. It can be very tempting to use tags like #bracelet #bracelets #jewelry #jewelry items #jewelry pieces (and so goes on) to make sure that no matter what online users are looking for they're going to find your website. MISTAKE! The more you repeat words, the lower you'll be ranked by Google, because it will consider that you're posting spammy, non relevant content. Instead, try to be brief in your descriptions, but at the same time using words that are really meaningful for your blog and site. If you want to have more information about the fascinating words of Google Semantics, there's a very interesting (and short) article here.


Make sure that your website is linked in your profile, not only to connect with your readers, but also (and this is very very very very important) because Google determines the relevance of a website by the information that is provided in all the shared links of that website in particular. And another little bonus: if you add your website to your Google + profile your site can be elected to be part of the Google + Direct Connect. Of course we're talking big words here and the way to arrive on the top of Google searches is long and full of painful traffic jams, but if we're doing things well from the beginning we're getting ready to arrive there, right?


Using circles is not enough. You have to use them WELL. Once you have an account and a filled profile, you're ready to start sharing content. Before doing that, through, it's important that you start adding people to your circles. Something really amazing about Google + is that it treats relationships online the same way that relationships happen in real life: you don't share the same information with everybody, and you don't talk the same way with your coworkers than with your best friends. You hang out with people who share your interests and you talk about those interests with them, but you might not talk about those interests with your coworkers because you know that probably there's not interested. That's what circles are about. Once you are on your Google + account, and you see a left sidebar by passing the mouse through that part of the screen, find the link called People. In there you'll be able to find people you know through your contacts. It's important that every time you add somebody to your circles you take the time to decide in which circle you want to include them (and create new circles when needed), because this will be extremely useful later, when you have a lot of people added and you want to share different content with them. Targeted marketing is the present of marketing (and the future of it).


Here's something cool about having circles: it will give you the option to send people in the circles a mail in their inbox (something that is not possible with Facebook), which means that you'll make sure they see what's posted in your Google + and they won't skip it (this option is only possible when you select to post something directed to a a certain circle, but NOT when the post is public, that's why it's important to create circles and post for them). But be careful, making sure that people see an important post is one thing, and spamming them is a completely different one (not to mention illegal if they didn't give you their approval to receive mails from you). With that I mean that it can be useful to share important announcements on the mail of your circles (for example if you're going to be away on vacations for a relatively long period of time), but don't Spam them to share every blog post or special offers or promotions, because they'll get tired and they'll unfollow you.


Reward your followers for following you on Google +. There's a very extended rule (the 80/20 rule) when it comes to share content on the social media, which stats that 80% of your posts should be informational, and only 20% should be a promotion of the things you do or sell (see this infographic). Don't post only about your posts and the things you do. This might seem common sense, but it happens often that on the Social Media people share only the content that is posted on their blog, without giving any extra bonus to the people that are following you there. Let's face it, if somebody wants to follow your blog because they like it, reading your blog should be enough for them, why they would follow you in all your social media sites if you're sharing the same thing in all of them that they can find in your blog already? There's a lot of ways to do it: share interesting links to help them discover new websites through your Google + account, make special discounts with a special code for your Google + followers, asks them questions on your wall to start a debate, create a special community for your followers to interact... there's a lot of ways to make your Google + account part of your blog or business, but with its own personality. Be creative!


Join communities. One of the big advantages of Google + compared to Facebook is how easy it is to join communities in there (Facebook has a similar feature called Groups). What makes Google + communities great is that they're very well organized, they have a great layout, it's very easy to share content and questions within a community can be organized in categories. It's easy to find them, there's a community almost for everything, and it will spread your circles and help you interact with more people, who will instantly become potentials readers of your blog or potential customers of your business. They're engaging, they're growing fast, and they're an open door to a word that you totally should discover. You like cooking? Join a recipe community. Your blog is about DIY project? Share them in a community as well. You want to make friends of your area? Find them in a community. Interact, interact and interact. You can even create your own community! What's important, though, is not just joining the community, what's important is to be active in it. Visits won't come visit your blog magically just for being in the social media, you need to attract them. And the only way to do that is being active on a regular basis.


Post always with a comment, even if you only share a photo. Why? Because it's hard to engage with your followers if they don't know your opinion about anything and they never read what you have to say about something. For example, if you're sharing a link, don't post just the link, add also a comment explaining why you're sharing it.


Using hashtags, like in Twitter or Facebook, is highly recommendable, and they have exactly the same function that they have there: they're useful to find conversations, join them or start them. However, there's something amazing that makes Google hashtags different than twitter hashtags: clicking on a certain hashtags it will bring you to a list of similar and related topics that you can explore, which can be really useful. Another cool feature is that when you make a post on Google +, Google will automatically add a hashtag to it (using basically the whole Semantic system we already talked about. With that hashtag you can do two things: either you decide it fits the post and you leave it, or you decide to change it (deleting it and not leaving any hashtag is not a recommendable option). More information on how to use hashtags on Google + can be found here.


To know when is the best time to post on Google + (we already talked in other guides how important it is to know when to post to reach the maximum audience), there's a very useful App called Timing + that is going to help you with that. This App will calculate for you the best times to share content! You can find it here.


TO LEARN MORE:
If you need a complete guide on how to use Google + (how to post, how to add photos, or how to make long posts) you can check
this link
, which provides a very complete guide on Google + posting.
OTHER POSTS OF THE SERIES: