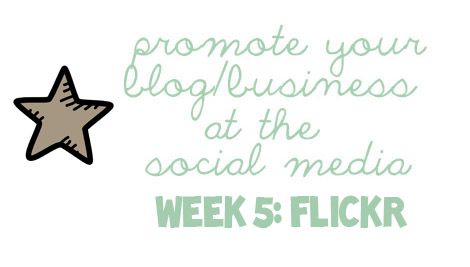 After two weeks of rest in the series, we're back with the fifth week tutorial to help you promote your blog and sites at the social media, this week dedicated to
Flickr
. You don't use Flickr? Then maybe this post can convince you of what a great tool it can be to spread the word about your blog or shop! Flickr is one of those social sites that maybe is less used for promotion for the general blogger or small business owner, but that has a HUGE potential if it's used wisely. This posts wants to give you a few tips to help you with that.
If you're interested in the past tutorials you'll find a link for them at the end of this post.
WEEK 5: FLICKR
Like Instagram, Flickr is about photography, so again you'll need to post good quality photos. In here I'll repeat the same advice I was giving on the last tutorial for Instagram: your photos don't necessarily have to be professional, but they should look professional. Keep in mind that your photo is going to be the presentation card of your site, and believe me, Flickr users can be very harsh: if they're not attracted to a photo they'll close it and move to another one without any kind of compassion (and it won't take them more than two seconds to do that... some are even faster!).


Even if we already talked a lot about keeping doors open (every social website you are into should lead to your blog/shop, and your blog and shop should lead to your social network sites), it's worth repeating it. It applied on Twitter, Facebook, Pinterest, and Instagram, and of course also in Flickr. Don't forget about it. Link to all your sites so people won't get lost. Remember also to use a similar name for your Flickr account than you're using in for your blog or shop, in that way is easier for people to associate all your accounts, and it will give the impression of being a consolidated brand (having a blog called "The happy cat" and a Flickr username called "JumpyElephant85" can get people very confused. And who can blame them for it?


Your profile image is as important as the photos you post. Use a photo of yourself (people like to see the face behind everything, only because we humans are curious by nature) or otherwise use the logo of your blog or business. Why? Because in that way people will quickly associate your Flickr account with your blog, and it will help to the whole brand image concept that we've been talking about since the beginning. Branding is more important than what you think. Actually, branding is half of the job of starting any kind of project that wants to attract audience to it. Want to know more about branding? there's a pretty interesting article about it here).


Post photos that will make people want to visit your blog or website. If you're selling handmade bags, for example, there's a huge difference between a photo in which you only see the bag landing on a table (not very glamorous or artistic, let's face it), or a photo in which you see somebody wearing a bag, or in which you see the bag in some kind of context to make the photo (and the item) interesting. We see it all the time in publicity, don't we? Photos sell. That's what you need to have clear when you promote on Flickr.


The "Big Thing" in Flickr, then, is people to see your pics, right? NO! The "big thing" is people to FIND your pics. Why? Because they'll only see them if first they can find them, and that's not an easy task. Do you have any idea of how many photos are posted on Flickr every minute? Me neither, but I'm sure the numbers are high. That's why tagging is so important. Never ever post a photo without a tag. NEVER. Posting a photo without a tag is like dropping a needle in the ocean and hope that somebody will casually find it while swimming.


Interact. Flickr has something really awesome that you don't have on a photo site like Pinterest: you can join groups. Actually, you should join a group right now! Groups are like huge and shinny shop window in which you can display your photos for everybody in the group to see. They're not as amazing as the ad spot that passes just before the Superbowl, but they have it's own superpowers too. We'll develop on that later.
If you already have a Flickr account, your main project before starting to improve the way you use it should be to navigate through all your photos and declutter your account. Delete all the photos that you don't really like, or the ones that have very bad quality (for example photos that are blurry), and leave on it only those photos you really want people to see. It might sound like a waste of time, but you never know who will navigate through your albums, so it's good to make sure that when somebody does they won't find content that we're ashamed of.


Once you've washed the face of your Flickr it's time to organize it. Here's when "sets" and "collections" come in handy. I don't know about you, but I always found these two words extremely confusing, and kind of complex to understand. To try to make it easy for you, I'll use an example. Imagine that you visit the British Museum and all the pieces from all the time periods are mixed together inside the building. How would you know where to go if you are interested in a certain painting from Degas? It would be impossible to find it! But because the museum is organized, the only thing you need to know when you're looking for that painting of Degas is where the Impressionist art is, and after that where the Degas paintings are. Easy, right? Now, imagine that the Impressionist Painting is a Collection in Flickr, and that each artist (including Degas) is a set (a set within the Collection of Impressionism). From there, you can apply that to your account: imagine you take photos of landscapes. You could be interested in having a collection for the different seasons, and inside this collection you could have 4 different sets for each one of them (winter, spring, summer and autumn). Collections and Sets are extremely important for visitors not to get lost in your gallery (you can find more information on sets and collections, and how to set them up, on the Flickr site)


Once every photo is organized, make sure that it's tagged with keywords. Here's when the magic of Flickr begins, because tagging images means that these images will show up on people's results when they look for the keyword you used. Keep in mind, through, that tagging your photos doesn't only mean adding a label to them: it also means that you'll need to put a tittle and a description. The more detailed the description, the highest the chances that your photo is going to be found. The same goes for the titles: it can be very tempting to give your photo a very abstract and artistic title (such as "The immensity of the nothingness), but at the same time you have to keep in mind that the keywords used in the title are going to be used to indexate your photos: make sure that the words in the title are related with the real content of the pic.


Make sure to check often which are the most popular tags on Flickr, and use them for tagging your photos. You can find this here.


Depending on the kind of blog or shop you own, it can be really interesting to tag photos geographically. If you're focusing on an audience of an specific town, area or country Flickr gives you the possibility to add photos to a map for users to browse for them. This can be interesting, for example, for somebody who organizes events in a certain area (imagine that a party planner from London can share photos of the decorations set for different parties, this can attract the attention of other potential people from the area that would like to organize an event and they need somebody to plan it).


Once your whole content is organized and tagged, is time to set your privacy options correctly. This seems common sense, but it worth to make sure that you're using the option in Flickr that allows anyone in the Flickr community to find your photos. It would be a total fail that after spending a lot of time tagging and using keywords nobody would find your photos because they're set to private!


Define your profile. Edit your information explaining who you are, what's your Flickr about, and where to find you. A good profile page can make the difference between somebody visiting your blog from your Flickr, or not.


It's time to spread the word about your photos! Once you've made sure that you're linking to your Flickr account from all your sites, it will be very interesting to join a group. Flickr has a group for almost everything, and the advantage of belonging to them is that people in the group will share the interest for the kind of photos you post, increasing the chances of your sites photos being visited because you're exposing them to the right audience. Imagine, for example, that you're selling scrapbooking supplies. It would be really useful to join a scrapbooking group, post photos of your products being used in different scrapbooking techniques, and on the description of the pic link to your website. Interesting, right? That's the magic of exposure! (Find Flickr groups browsing here).


As it happens in all the social media sites, interaction is half the job (and yes, the other half is branding). If you want to get visit and comments on your photos, you'll have to comment on other's users photos as well. It's only fair, right? This is way easier when you're inside a group, because you'll be interested in the content that is posted there. Make sure to set weekly goals for it (for example, you could tell yourself that you'll comment on a photo a day during a whole week, and depending on how it goes do the same with two photos a day for the next week. At some point comments will go back to you, specially if you start following people's photos. You might even make new friends!


Contrary to other social sites like Twitter or Facebook, promotion in Flickr should be a little bit more discreet. This doesn't meant that you can't promote your items, it just means that you'll have to disguise them as a photo rather than a spamming pic because the kind of public you'll get on Flickr is slightly different than the one you'd get on Facebook. While it can be okay on Facebook to post a photo of the last items you made for your shop (because most of the people following you on Facebook are already customers of your shop or readers of your blog), on Flickr you have to be more careful: you can post them, but make sure that the photo is worth it. Flickr users give a lot of importance to the quality of the image.


To summarize, if you want to success on Flickr, you'll follow these three (easy and free) steps: 1) Optimize your account and your photos, 2) invite people to see your photos and drive traffic to your gallery and 3) Interact with other users.You can't fail!
OTHER POSTS OF THE SERIES:
Upcoming weeks:
September 18 - Google +