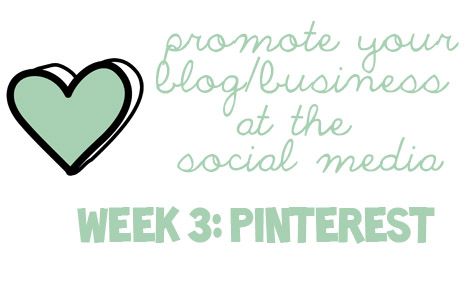 Welcome to the third chapter of the Guide to Promote your Blog/Business at the Social Media, this week dedicated to Pinterest. If you missed the past weeks (dedicated to Twitter and Facebook) you'll find links at the end of this post. Let's start!
WEEK 3: PINTEREST

Keep things simple. This is very important, because one of the main keys of success of Pinterest is that is extremely easy to use. It only requires an account, and right after that you can start pinning in one of the most intuitive interfaces that you're going to find around. If you want to be noticed on Pinterest, your pins and boards will have to be as simple as the website is (keep in mind that simple doesn't mean boring or easy, we'll develop on that later). That is the basic key of success in Pinterest.


If you're pinning something (a photo, a tutorial, a tip, or any other thing you want to pin), quote the source. I'll never get tired of repeating this. Quote the source. This means that each pin has to link to the original site where the thing you're pinning was posted (for example, if you're posting a DIY tutorial you saw in a blog, it needs to lead to the specific blog post where the tutorial is), in that way both the source and the authors are going to be perfectly clear. It will save you possible problems in the future (including legal ones). And remember: We Heart it and Tumblr are NOT sources.


Promote your site or business, but at the same time offer content that gives your followers a reason to follow your boards. If you sell crochet items on Etsy it can be really interesting to pin them on Pinterest, but at the same time, it would be great to pin knitting tutorials from other bloggers or sellers. The clue is to attract people to your boards that might be interested in what you sell or offer, and when they follow you, promote your product (without spamming them).


Be selective when curating. Keep in mind that on Pinterest is as important the way you present the pins, than the pins on themselves. Organize your boards in a clear way, create original and catching titles for your boards, and pin with a purpose in mind. Repining every single photo of a cute cat only because you're a cat lover might be tempting, but it can also be tiring for your followers. That's why the heart option is for (to state that you like something and being able to recover it when you want, but without having to repin it). Follow users that interest you, repin their content, and find those boards that can better adapt to your own boards, in that way it will be easier to find content to share with your followers as well.


You have to fit in, but at the same time, you have to stand out. Most of the users of Pinterest are women who like to read about crafts, DIY, interior design, recipes and fashion. If you are a lifestyle blogger, for example, you totally fit in Pinterest, while it might be complicated for the owner of an insurance company to find their place in Pinterest. At the same time, through, fitting in is not enough: you have to make sure that you offer your followers something else than what the rest of the boards offer: it can be very quality content or pinning unique things that not most people have pinned yet, soon you'll stand out from the crowd.


Pinterest is not only another opportunity to promote your business, is also a working tool. No matter if you're a blogger or a business owner (or both), Pinterest provides you an infinite amount of resources to learn more about what you do: from tutorials, to marketing tips, to blogging strategies, you'll find almost everything you need, written from "real people" with lots of experience in what they do. Don't waste the opportunity to use all this valuable knowledgement.
The first thing that we need to have clear is that the life of a Pinterest Pin is way longer than the life of a tweet, or the life of a Facebook post. In twitter, posts exist for minutes (sometimes even just seconds), on Facebook they last hours, but on Pinterest they can last days, even weeks or months! (read more about this in a studi that Piqora made, here). That's why the time of the day in which you post is not as important as it was on Twitter or Facebook. How awesome is that?


You don't need to post daily if you don't want to, but it's important to post on a regular basis, to keep your boards active and increase the chances of being noticed. On average, brands posts around 60 pins per week (source).


It can happen that we go on Pinterest only once per day, and when we do we repin 25 images at the same time. Doing so, it's possible that we annoy our followers. It's better to find five minutes to visit Pinterest three times per day to pin something, than spending half an hour pinning as if our life depended on it. Unless you want people to say something like "here she comes again" every time you start "shooting" all your pins.
Keep your "About" section updated. Even if it's very easy to create a Pinterest profile, a lot of Pinterest users never touch the "About" section after creating the account. It's important that you upload a photo (if you're on Pinterest for your blog or business use either a photo of yourself or a logo of your brand), provide a link to your site (better if it's verified), add a location (so people can search you geographically), and write a few lines about what you do or what you offer. Use keywords that will help search engines find your site and drag attention to your boards. Use the 200 characters that the about sections provides you, they have more value than what you imagine.


Is better to have a smaller number of boards but full of pins, than one hundred boards with two or three repins on them. One of my favorite things on Pinterest is to discover a board with a subject I'm passionate about, and find that they contain more than 100 pins about the same subject. For me, that's an instant "follow board". If you want to gather followers, you'll need to take care of your boards.


Having a lot of boards can also lead to another problem: two pins can fit in more than one board. We don't want to pin items twice (we'll be unfollowed for spam), so it's very possible that the reason than two pins fit in two different boards is because we have more boards than what is necessary. This is what we referred to at the beginning, when we talked about keeping things simple. Add this to the previous point, and you'll have two good reasons about why keeping things simple is better.


Despite keeping things simple, you need to have at least 20 boards to attract attention. Use Pinterest and its possibilities to create a whole image and lifestyle around your site. If you sell your handmade jewels, for example, don't use Pinterest only to pin about jewelry, use it also to pin about other things that interest you (for example baking) and that can bring you all kind of new followers that most likely they'll also like jewelry and accessories. Don't be afraid to open your boards to different subjects than the ones your brand offers, Pinterest is not made to be specific.


Board categories are important, Make sure to fill that information when you create a new board.


Interact, interact, and interact. I already recommended this for Twitter and Facebook, and Pinterest is not an exceptions. That's why all these sites are called Social Medial, right? If we want to attract followers, we need to get social. Follow boards, Like pins, Comment on other people's pins, Repin... and if it's possible, do so every time you enter Pinterest. The more you interact, the more chances you have to be noticed.


To get more visitors, repin images from a lot of different pinners instead of always repinning from your favorite board. At the same time, make sure to go to the Popular Tab on Pinterest, and explore the images that are getting the most number of repins at the moment, and pin them. This will connect you with a lot of other users, and will drag visitors to your boards.


When you repin something, it's very very very important that you edit the description attached to the pin. For example, it's very common to find a photo of a craft room area with the phrase "I love this!" on the description of the pic. This means that you're losing a lot of chances to add keywords for other users to find your pin and boards. Keep in mind that social media is also a science, and like any other science works with its own mechanics. If you repin a craft room area, words like "interiorism", "craft room" or "organization" should appear in the description, unless you want your pin to go totally unnoticed and get lost in the ocean of pins and repins. Before repinning, remember to edit.


Use hashtags. Always. The same way that it's easy to find pins without a description, we often find pins without hashtags. If we have learned to use hashtags on twitter so easily, why we don't do the same with Pinterest? Find out which are the most pinned words, and use them when possible in your hashtags (check out this infografic).


Post original content. This is very important to make your Pinterest unique. This is where it comes handy to own a blog tied to a business, and where you can post DIY, tutorials, or interesting posts that can fit very well on Pinterest. For example, if you're an artist who sells cards on Etsy, it's probably that you'll have a blog in which besides promoting your cards you post a tutorial or some freebies every now and then (and if you don't, you totally should!). Take advantage of it, and share that content also on your Pinterest, linking it directly to your blog (which will link people to your shop). In social media everything is (and has to be) tied. Original content is what will make you different from other pinners.


There's a whole psychology behind Pinterest. Images with multiple colors on them are the most repinned ones. Vertical images are more repinned than horitzontal ones. (More info here).


As you can see, there's more to Pinterest than what we can imagine, and despite being a "simple site", knowing how to use it can be really complex. To know more about the statistics and mechanics of it, you have a very good article
here
, which provides all the scientific details that you're looking for. If you look for a less deep read, you can also check
this article
from a marketing expert.
OTHER POSTS OF THE SERIES:
Past weeks:
Upcoming weeks:
August 21: Instragram
September 4: Flickr
September 18: Google +