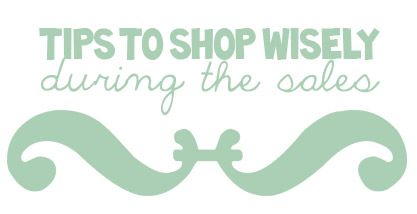 Summer sales started a while ago already, and we usually feel tempted to buy way too many things that later we might never wear, only because they offered huge discounts on them. In this post, I'm giving some tips on how to shop wisely during the sales to make the most of them.
A few recommendations to start:
Clothes that doesn't cost much money will stay that way when there's no sales, so during the sales it might be better to buy something that usually would be way too expensive when there's no sales (for instance a designer bag).
Buying something that we don't know if we'll wear only because it's cheap is a huge no-no. How many times we've tried on an item that doesn't really fit us, but we end up buying it because it doesn't cost much? Money should be spent in things we really love, no matter how cheap it is.
Skinny neon pants might be trendy now, and it might sound like a great idea to get a pair of them at the sales (because after all if you don't wear them is fine, they were 60% off, right?). Mistake! Not only you might end up not wearing them ever, but you'll end up spending money in something that next year might not be trendy anymore. Going for classic items that never go out of style is usually a must for shopping wisely during the sales.

Keeping all of that in mind, here's my top 6 items to consider buying (not all of them at once of course, unless money is not an issue) for a wise sales shopping:
1.
A good quality handbag
(this one is from Cleobella. In sales: $172.63, original price: $437). It's still a high price to pay for a bag, but it's a good quality item that you can wear with a lot of different styles, and the best of it: not only in Summer, since both the color and the material fit really well for Autumn too. And it will last a long time!
2.
A versatile Cotton Blazer
(this one is from Zara. In sales: $59.99, original price: $129 ). This blazer will save your life in a lot of occasions: to wear with jeans when you go out at night, matched with fancy pants to go to a work meeting, or to wear in those September evenings when it starts to get chilly outside. Really practical!
3.
A Cocktail Dress
(this one is from Untold. In sales: $68.40, original price: $228). We never know in what kind of events we're going to be invited in the future, so it's really good to have a cocktail dress that we really like and fits us well. Maybe we'll get invited to a wedding, or to a fancy party, and having the dress in advance (and in sales) can save us a lot of money and time in the future, not to mention the stress of finding the perfect one under pressure.
4.
A comfortable Set of Bra and Panties
(this one is from Intimissimi. In sales: $23.46, original price: $46.90). Even if this set is in Summer colors, you can wear it mostly during the whole year, and with a 50% discount! Buying lingerie is really a good option in sales, specially when it's comfortable sets that you can use daily.
5.
Resistant Running Shoes
(these are from Nike. In sales: $61, original price: $80). It's hard to get a discount on running shoes, but if you can save almost $20 that's already a big thing, right? Take advantage of the sales to renew your running shoes, after all they can be worn all year long and there's no need to pay the expensive price for them, when you can get a discount. The same quality, for less price!
6.
Good quality sunglasses
(these are from Gucci. In sales: $199.95, original price: $330). Taking care of your eyes is important, so we usually don't mind spending money in eyeglasses. Still, that doesn't mean we can't wait til the sales to buy a designer pair for a lot less money! In this case, you'd save $130.05. It worth it!