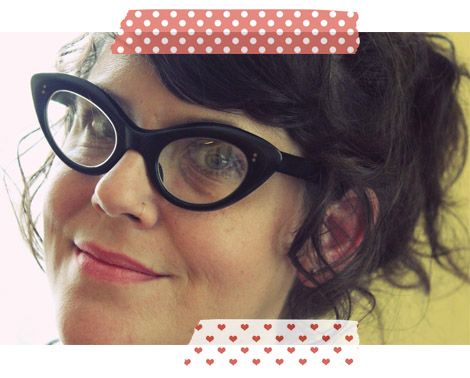 I've been posting interviews to bloggers pretty often lately, and that's because I think the best way to share what other people do is to know their thoughts about their own work. Today in the blog I'm really happy to this interview to Jennifer from the blog
Grits and Moxie
, who has been a sponsor of my blog for the past 30 days. Jennifer is a really sweet, creative girl, who has one of those inspirational blogs full of inspirational ideas and pretty photos. She's also very well knows for organizing monthly postcard swaps. If you don't know her blog yet, you should totally visit it!
1. Where does the name if your blog (Grits And Moxie) come from?
Grits and moxie are definitive of who I am. On one side I'm southern. My heritage is rooted in humidity, slow drawls and, yes, savory grits. The other side of me is something I made my own - my moxie. My ability to be outspoken about topics of equality, feminism and living simply. Together, these things create, well, plain ol' me.
2. Why did you decide to start a blog?
I actually started my blog as a way to keep up with folks that had moved away but then it morphed into a personal journal. Eventually I found out how vast and unique the blogging community is and decided to expand my goals. After numerous fits and starts and struggles, I'm where I'm at today. Now I'm keeping up with lots of new online friends as well as my trusty original counterparts and I couldn't be happier!
3.What's the best part about blogging ? And the worse?
Besides meeting awesome folks, the best thing about blogging is that it constantly challenges me. New content. How much to reveal about yourself. New ideas. Photography goals. Managing my time. Change. It all keeps my on my toes and my brain (sometimes) on the go. The bad? Wellllll, I have to say at this point that the only bad thing is my tendency to compare myself and my life to other bloggers. Comparison is the thief of joy, as Roosevelt said. I live simply and I work a lot and I don't care too much for fashion. That alone knocks me out of many a blogging loop, eh? And I'm only human. Sometimes I wish for things instead of letting them inspire me.
4. Define yourself in five words.
Compassionate. Explorer. Happy. Realist. Advocate.
5. What's your favorite thing about Summer? Do you have any Summer traditions?
My family used to spend 2 months camping on Cumberland Island, GA every summer so I try to get outdoors as much as I can during the summer months. I must admit, it's a bit hard with the heat and humidity and bugs here but I have to go camping at least once! Berry picking is another tradition thanks in part to my jam making Nana. Good times!
You can follow Grits and Moxie in these links: