I always love to share the projects from creative people, and today in the blog I'm not only sharing the work of a great artist, but also of a great friend. I'm really glad to feature Emma, a French girl with a lovely art blog called
Listen To The Ocean
. I'm sure you'll love what she does :)

1. Where does the name of your blog (Listen to the Ocean) come from?
Just from my love of the sea, nothing much more complicated than that. I've always lived in a reasonable distance from the sea and I wouldn't like to have to live far from it, I would miss it way too much. The sound of waves is one of my favorite sounds and that's where my blog's name comes from.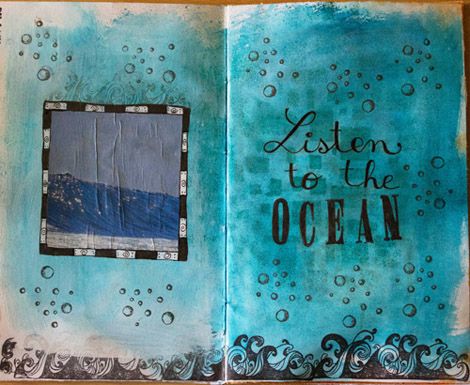 2. What is your inspiration for your art projects?
Music is my main source for inspiration, even if what I create often (if not always) ends up pretty far from the song that originally gave me the idea. I'm one of those person who can listen to a song in loop for hours when I find it catchy at first... it often associate in my head with some ideas for a project and that's how it starts. Then, let's face it, it doesn't always end up looking like what I had in mind at first but what does? Another big part of my inspiration is the ocean obviously, and water in general, mostly in the colors and shapes I use when I create something.
3. Which are your favorite tools and materials to work with?
Watercolors, without a doubt, is my absolutely favorite. I love the soft effect they give and also how versatile they can be associated with water. I recently tried watercolor inks and they give a more vivid result with still the same properties than basic watercolors. My favorite tool would be my waterbrush because it's so practical not to have to bring around a whole pot of water but just squeeze a few drops out of the brush and start painting. I also have an unhealthy addiction to washi tape, black waterproof pens and I love working with stamps, acrylic paints and all kind of papers. I really love mixed media more than restraining myself to use only one type of medium at the time, it makes things more fun and more messy, and let's face it, the messier the better.
4. Do you have any crafty project going on right now?
Apart from our common ABC summer project, I am just randomly working in one or the other of my art journals and making ATC to swap with a friend. I have a few ideas for potential projects though, but we'll see if they come to something.
5. Which is your favorite thing about Summer?
Summer fruits I think. Other than that, I don't really know. I have to admit I'm not really a Summer person. At all. I don't like heat (and living in the south of France, I can't really avoid it) or even going to the beach in summer because it's always packed with people like it's a mall on the first day of the sales. Maybe my favorite thing about Summer is that it means Fall comes next!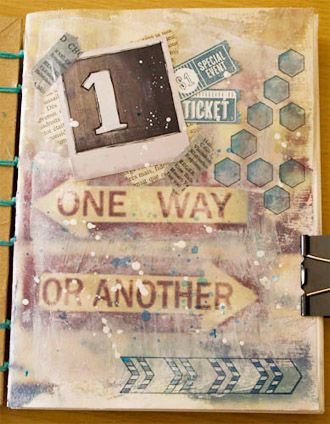 You can follow Emma at the following sites: