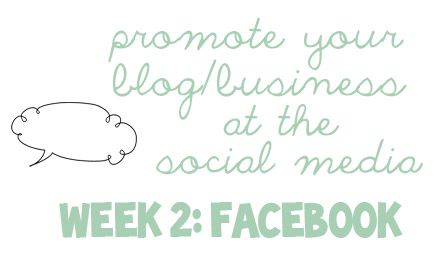 Last week I started a blog series on the blog, the
Guide To Promote Your Blog/Business at the Social Media.
This is the second week of the series, and it's dedicated to Facebook! If you missed the first week (dedicated to Twitter) you can check it out
here
.
WEEK 2: FACEBOOK

The first rule might seem obvious, but if you're going to create a Facebook site related to your blog or shop, it's important that it's a Page and not a Profile. I know a lot of us know the difference between both of them at this point, but just in case, here's a quick reminder: Profiles are the way you communicate with others as a user (as a person), while a Page is the way an organization, a business, or a public figure creates a presence on Facebook. A Facebook Page is the place where all the persons interested in a certain brand, product, service or activity can gather together to get information about them. On the previous week we talked a lot about building a brand, and a Facebook Page is another tool we can use to create it.


Don't lock doors. If you have a blog or a shop, and you want people to follow you on Facebook, you need to put the Facebook link on a place where it's easy to see (for instance on the sidebar of your blog). And the other way around: your blog and shop has to be accessible from your Facebook page. Potential readers and clients come from both sides, we have to make sure that the door between them is not locked.


Post regularly. We already mentioned how important is on twitter to post on a regular basis rather than post 50 times in one day and nothing on the next week days. It doesn't matter if you post one time per day on your Facebook Page, or once every three days. What's important is that you keep doing it in a regular, balanced way.


Don't spam. A huge difference between Twitter and Facebook is that on twitter your followers will rarely go back to check what was posted yesterday, while on Facebook your followers can see a post from yesterday almost on top of their feed even when it was posted 24 hours ago. Instead of posting on different time frames for everybody to see it (like on twitter), posting once will be enough. Unless you want to be reported for spam... or unfollowed for the same reason (both can be frustrating all the same).


Interaction is the key to success on Facebook. If you use your Facebook Page to just announce promotions you're offering on your blog or shop, you're missing a bunch of possibilities that Facebook offers you. You have to keep in mind that every time somebody interacts with one of your posts a lot of followers of that follower can see it. For example, when somebody likes a photo you posted, followers of them will also see the photo, even if they're not following you, and maybe then they'll click on the photo and land on your page. Even if this can be a problem when it comes to personal photos, it's a huge advantage when it comes to promote a site. How to get people like your posts and interact with you on Facebook? That's something we'll see this week.


Facebook is not a "sure win" or a "gold mine": having a Facebook page won't assure you that all those followers are really seeing what you post (we'll talk about visibility and how limited it is on Facebook later). Still, there's ways to make that happen and we'll make sure that you know them.



Unlike twitter, Facebook won't require you to post daily. Posting daily wouldn't be a problem at all (it would be great!), but more important than how often you post what really matters on Facebook is how many people will see it. Unlike what we adviced on Twitter, on Facebook you should forget about time frames: posting at 8am in US time won't necessarily bring you more audience on Facebook. So first of all, focus on posting regularly, and when you've managed to do that, you can try to improve the number of followers you reach.


Not everything needs to be posted on Facebook (we don't need to share with our followers things that maybe we'd share on twitter), but there's occasions in which a Facebook post is a must: a) when you publish a new post on your blog or you release a new collection of items for your shop, b) when you offer a special promotion (like a huge discount that is time limited) or c) on special holidays. Wishing your followers a Happy New Year or a Happy Halloween is very important, it helps to avoid giving the impression that the only thing you care about is your business. Try to give a human touch to your Facebook Page and your followers will appreciate it.


If your shop shop is going to be closed for several days in a row inform about it on your Facebook Page. Announcing it on twitter is okay, but we already talked about how short the life if a tweet is. On Facebook, on the other side, posts have a longer life, and you can even create a graphic to go with it (for example, you can take a photo of a closed door with the message "closed for holidays" and the days your sites will be inactive on the writing part of the post, along with information on when orders will be shipped, for instance). In that way the lack of activity will be justified, and people will know when they'll be able to reach you again.


It's possible (and highly recommendable) to schedule posts on Facebook, and it can be really useful! Imagine that there's something you post every day on your page (for example "a quote of the day"), and you don't want to have to worry about it every morning. Facebook makes it possible to schedule a lot of posts in advance, in that way you won't have to spend a lot of time on Facebook every day, yet activity will still show on your page. For more information on how to schedule a post on Facebook, click here.
Set yourself goals for posts to bring a new life to your Facebook Page. Tell yourself how many times you want to post that week, and and how often, and stick to it. I strongly recommend the same thing I recommended for twitter: if you're not a regular updater, to keep better control of what you post and try to get into the habit of updating regularly, it's very useful to use a table, a chart, or a print. Whatever works better for you, but it will help you keep track of what you post, and how often. If you need ideas on what to post, you can check 20 Facebook Update Ideas For Your Business Fan Page.


On Facebook exposure is very important. How to get your posts seen by your followers? It might seem obvious that everything we post on our Facebook Page will be seen on our followers feed page, but that doesn't work exactly this way: facebook has a news algorithm that hides a high number of posts from the pages we follow. That's why it's extremely important that you visit the "Insights" (on left sidebar, under "news feed") to check the percentage of followers you're reaching. According to Facebook, your posts will reach around 17% of your followers, if you're not reaching that percentage is time to get more people engaged with your posts. To know more about exposure on Facebook, this article is pretty interesting.


Now that we already know how important it is for the visibility to get feedback from your followers on Facebook, let's see how to do it. A good way to get comments, likes and clicks is to ask questions directtly to your followers: "Happy August! Do you have any special plans for the upcoming 31 days?".

Another way to keep users engaged and improve the percentage of people that can see your posts is to k

eep things visual

. A huge difference between twitter and Facebook is that on Facebook first they see the pic and if they're interested they will read the post, while on Twitter first they'll read the tweet and if they're interested they'll click on the photo linked. On Facebook, though, the photo is the first thing your followers will see: make it visually pretty. If your followers are attracted by the graphics they see in their feed, they'll read the messages on them. the best way to promote and share information on Facebook is to post a picture with it.


If you have sponsors, promoting them on Facebook is almost mandatory, however, try to don't overwhelm your followers with it. A good way to do so is adding value to the post: does your sponsor offer a special discount code this week? Share it with your followers along with a photo, in that way you'll promote your sponsors but at the same time your readers will get something out of it. When you do that, make sure to link the Facebook page of your sponsor (if they have it) with your post. The way to do it is to include @ at the beginning of their Facebook page name, and it will create an automatic link on your post (if you need a tutorial on how to tag people and pages on Facebook, here is explained).


Post special content only for your Facebook followers, and give them a good reason to keep following you. It can be free printables for your Facebook followers, a special discount code at your shop for people who like your page on Facebook, or anything you can thing about. The important thing is to add value to the content, and not use Facebook just as a place to repost everything that is already on your blog.


Hashtags have recently been introduced on Facebook, but not many people know them yet. While they can be useful for marketing purposes, they're still pretty unknown among the regular facebook users and they can lead to huge confusions. Still, if you want to venture into the world of hashtags on Facebook, you can start reading these 8 tips.


To get followed, you'll have to follow other pages too. Follow your competitors to know what they're up to, to network, and to exchange information. The more you interact, the more people will leave feedback on your page and see you on their feed. In Facebook you're not following people to repost what they post (like you'd do on twitter), on Facebook you follow people to increase your visibility. The more people that follow you, the more chances that somebody is going to see what you post and click the "like". When somebody likes a tweet it stays between you and them, when somebody likes a status on a Facebook Page followers of both sides can see it.


A very valuable tool in Facebook is the possibility to create groups. Groups will allow you to network with people that share your same interests: for instance, you can create a group with other bloggers to share your experiences, or a group with people that are in the same business than you are to share information with them. Facebook Groups are different than Facebook Pages, in the sense that a Page is a broadcasting from-one-to-many, while a Group is meant to be a collaboration within a group of people, where everybody shares and receives information. Belonging to a group is going to be very useful when it comes to organize activities (for example a group giveaway on your blog).
OTHER POSTS OF THE SERIES:
Past weeks:
Upcoming weeks:
August 14 - Pinterest
August 21 - Instagram
September 4 - Flickr
September 18 - Google +