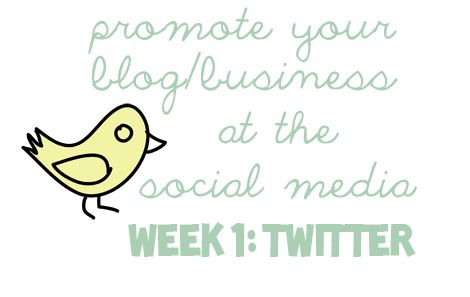 Happy Wednesday! Today in the blog I'm starting a new series of blog posts, a "Guide to Promote your Blog/Business at the Social Media". These posts will be posted every Wednesday, from today until the end of August, and each week is going to be dedicated to a different social media site, with different ideas, tips and suggestions to help you get the most out of the great opportunities that social media offers to promote your blog and/or business. Let's start!
Don't overwhelm your readers. The trick is to make them want to follow you, instead of feeling like they're doing you a favor for following you. How to do that? Following the tips you'll find in this post.


Be positive. This is extremely important. Nobody wants to follow a twitter account that is constantly complaining and ranting about all kind of things. We're always upset every now and then, but don't let your bad humor to show on your tweets. We all like to follow positive, cheerful twitter accounts that give us a reason to smile.


Create a brand. If you're creating a twitter account to promote a blog or a business, and you want to relate the twitter account with them, is important that the name of your twitter account is as similar as possible to the name of the main site you're trying to promote. If you own an Etsy shop called "The Black Cat" and a blog with the same name, and you're trying to promote both of them on twitter, don't call your twitter account "@thegirlwiththeblueeyes11", because that's going to be confusing for your followers. Building a brand image is important if you want to grow a name within your field, and part of the brand image is that our followers can recognize ho you are as fast as possible. In the same line, your profile userpic is more important than what you think: we recognize userpics faster than we recognize usernames, and it's by the userpic that we decide if we're going to read a tweet or not. It's very recommendable to use either a photo of yourself (in that way followers can put a face to a username), or the logo of your blog/site (in that way you're building up a corporative image that your followers can recognize easily).


Tweet for your followers, not for your blog/business. Twitter is fast paced, and for the most part your tweet will only stay on your followers screen for a few minutes. Make them worth. If every time you send a tweet is to promote something you sell, something you do, or to share a promotion you're offering, your followers are going to get tired. Investigate what your followers like, try to find out what they want to see, and share information related to that: it can be links to interesting news, a random thought about a subject, or share a blog post that you just read and think it's interesting. If you catch your follower's eye today, they'll let the door open for you when you promote something tomorrow.


Include links to your twitter on the sidebar of your blog/website, and a link to your blog/website on your twitter profile. When it comes to spread the word about what you do, everything needs to be linked. People need to know who is the person behind the tweets, and where they can find you.


Participate, participate, and participate. Interact, share, answer, retweet. Nobody is going to care about your content, if you don't care about other people's content. That doesn't mean you have to answer to every single tweet, or to follow everybody that follows you, but a retweet every now and then, or a fast answer to somebody's tweet is always highly appreciated. Favorite tweets that you liked, retweet things you think are worth sharing, and for sure people will reciprocate.
More important than tweeting often is to tweet on a regular basis. It's more important, for instance, to tweet three times per day every day, than tweeting 20 times within one hour and don't tweet anything in the whole next week. If you need ideas, check out 40 useful things you can share on twitter besides blog posts.
If you're trying to promote your blog posts, tweet a link to them three times during the day, to be sure than followers from different time zones can see it. This is not considering spam if it's posted within hours of difference.


Schedule tweets. If you only get the chance to access twitter when you wake up in the morning, or when you go to bed at night, schedule posts for different time frames, so your tweeter account will show some activity even when you're not around. There's different ways to do so, for more information you can read this article.

Set yourself a goal of daily tweets you want to post and stick to it. For instance, at the beginning of the week, tell yourself (and write down somewhere): this week I'll post at least 4 original tweets, and at least 3 retweets or shared links. You can even make yourself some kind of chart or table to control how much you're tweeting.

You can find more information about effective twitter for business

here

.



Start the day with a positive message directed to your followers. It doesn't need to be anything special, just a quick "good morning!" is always appreciated. Besides, every tweet you send that is not considered "spam" is going to leave a positive trace on your followers.


If you have sponsors, dedicate a few minutes every day to check out their twitter accounts, and see if they tweeted something that can be retweeted, liked, or replied to. It doesn't matter how much the sponsor is paying (even if they're just sponsor swaps and they're not paying anything at all), if you leave a good impression to them, they'll talk good about you, and they'l bring more sponsors. Only ten minutes a day can really pay back.


Share photos, keeping things visual is another way to leave a good impression. Are you working on a new item for your Etsy shop? Take a picture "behind the scenes" and share it with your followers. It will help them to know better "the person behind the shop", and they'll be more interested in reading about what you have to share. Here you can see an infographic on how images affect social media.


Make your followers feel special. Every now and then share content that is only available to the people that follow you on twitter. It can be a special discount code, or a printable set of clip art, for instance. What's important is that you don't share this content anywhere else. Give your followers a good reason to follow you.


Hashtags are important, and it's better to use only a hashtag that is really relevant, than a lot of them that are pointless. It can be tempting to use general tags to include more potential audience, but at the same time if the hashtags are too general chances are that they get lost in the ocean of thousands and thousands of tweets of the same general topic. Instead, specific hashtags will to our tweets the users that are really interested in the subject.If the hashtag has more than one word in it, use capitals to separate the words (f.e. #SocialMediaMarketing). If you want more information on using hashtags, you can read this article.


Follow your competitors. You know what they say: "If you can't beat your enemy join them". But following is not enough: stalking people just to see what they do, feeling "jealous" in the distance because they have more followers than we do is not going to do is any good. Instead, try to retweet their content, or even interact with them. That might make them notice you, and you can even get a retweet back from them, which can be really positive to gain followers. Social Media is all about networking, after all.


Invite people to interact with you. How? Asking questions. Tweets such as "It's Friday! Do you have any plans for the weekend". Giving people an "excuse" to interact with you is always positive to bound with your followers and get them attached to your tweets.


Don't follow people only because you expect them to follow you back. Twitter doesn't work this way. You follow people for a reason, if there's no reason for it and you find yourself always skipping their posts and not even knowing who they are or what they're doing in your twitter feed, then unfollow them. There's various reasons why you'd want to follow somebody on twitter: because you're friends with them, because you're interested in what they do, or because they share interesting content. If they never post something that fits in any of those categories, then unfollow them, it's pointless to keep your twitter feed cluttered and miss tweets that could be itneresting to see or retweet, only because you're following people you're not interested in.


Twitter isn't about having a lot of followers, but about knowing how to reach them. There's a lot of free tools that can help you with that, and that will let you measure your influence, your average twitter usage, the quantity of people that saw your posts or the popular tweeter users in your area. Find out more about these tools here.
UPCOMING WEEKS:
July 31 - Facebook
August 14 - Pinterest
August 21 - Instagram
September 4 - Flickr
September 18 - Google +