Today in the blog I'm really happy to have a guest post from Kym from the blog
Deaf In The Kitchen
, where she blogs about yummy healthy food, shares vegetarian recipes and interviews other cookers. She also posts about Deaf Awareness, and other inspirational things. Go say hi! :)
______________________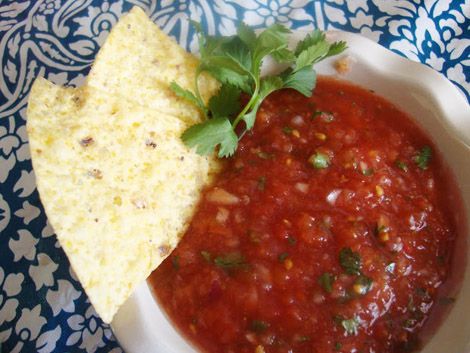 I love salsa! I don't love salsa out of a jar. Sometimes it is all you have, but if time permits, you MUST make homemade salsa. It really is delicious it is a nice smooth texture, not chunky. Now there is a place for chunky salsa don't get me wrong but this is not the day for it. And there is fresh cilantro in this recipe and that is always the bomb!
RESTAURANT STYLE SALSA RECIPE
INGREDIENTS:
1 and a half 14.5-oz. cans diced tomatoes (juice and everything)
1 Serrano pepper, sliced (test for heat--use less or seed the pepper to reduce heat)
Half of an onion (use your judgement here)
Half of a red, yellow, or orange bell pepper, seeded and sliced thin
1 tablespoon juice from a fresh lime (in a pinch, lemon juice works as a substitute)
1 tsp. salt
1/4 tsp. ground cumin (or to taste)
1 tsp. minced garlic (or to taste)
Cilantro to taste (I usually take a bunch of cilantro, grab it by the leafy end and rip off about a handful--really exact measurements, I know...)
THE DIRECTIONS:
In a food processor, toss everything in and pulse to your desired consistency. I like making this pretty smooth, so I don't do much chopping of my ingredients--I let the food processor do the all the work (I hate chopping!!). For a chunkier salsa, use a can of whole tomatoes rather than diced, don't chop up your peppers and onion too much, and don't pulse your food processor as long. Test your salsa after pulse--sometimes onions, garlic, and peppers are more or less pungent, so make adjustments as necessary.
Enjoy!
You can follow Kym on these sites: